Memories of Johnny Carson

If you are of the Baby Boom Generation then the death of Johnny Carson in January is like losing a little part of yourself.  That is part of the grief in loss; we face the death of an era to which we belonged. 

As a kid I wasn't allowed to be up late enough to watch The Tonight Show but I remember hearing my parent's laughter as they watched Johnny's antics every night of the week on The Tonight Show.  I carried on the tradition when I left home and tuned into Johnny, Ed and Doc every night of the week. I saw him interview starlets, heart-throbs, rock 'n' roll stars, Michael Landon, Joan Emery from the San Diego Zoo, politicians and countless others as I welcomed him in to my home every night like a dear, trusted friend.

Though he wasn't comfortable with the title, he was known as the King of Late Night Television by fans and contemporaries alike.  With Johnny's endorsement stars were born as evidenced by the careers of people like, Joan Rivers, David Brenner, Jerry Seinfeld, David Letterman.  He interviewed thousands of entertainers and regular folks during his thirty year reign, Johnny Carson is as much a part of American culture and history as baseball, apple pie and Chevrolet. 

Although most of us didn't know him personally, we felt like we did because he made us laugh.  Laughter is intimate and we laughed with Johnny for three decades. I feel fortunate to have shared in the laughter and grateful for my time on this planet with him. 

God's Speed, Johnny Carson and God's Peace to your family and friends.
Heeere's Johnny! The Special Collection    Johnny Carson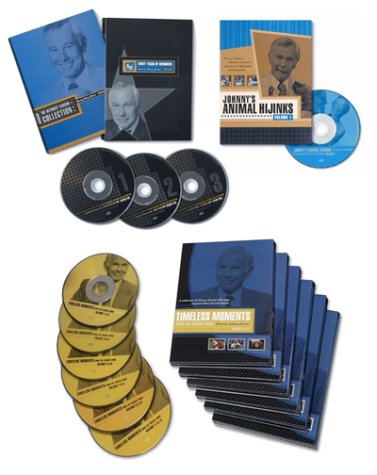 Culled from 30 years of material, this collection of moments from The Tonight Show Starring Johnny Carson contains some of most inspired bits of lunacy ever recorded. Whether cajoling with Hollywood's biggest stars or normal folk with special talents, Carson was a master of finding the right joke, with timing second to none. Along with bits of his opening monologues, skits, and early stand-up appearances from the likes of David Letterman and Eddie Murphy, there are many highlights with perhaps the perfect Carson guest--exotic animals that stole the show. This is the third collection of Carson's show; the His Favorite Moments videos were released shortly after Carson's reign ended in 1992. Although most of the tapes from his first decade are lost, there are plenty of highlights from the '70s through the '90s. Also included is Carson's touching and historic "Final Show," which finds the host simply talking to his audience and showing highlights--or just the faces--from his years on the set. Although many followed--and a few have even succeeded--Carson's Midwest charm made him the king of TV in a period when America was defined by television.

The 2002 The Ultimate Johnny Carson Collection added some superlative extras on DVD, including "Danger Johnny" segments from his first decade, short bits on the history of the show and the host, and more behind-the-scenes glances, including an intriguing way to watch the final show via unedited feeds from isolated studio cameras. Also included is the 1982 NBC special Johnny Goes Home, which follows Carson on a tour of his rural Nebraska homeland, and a slightly edited version of the penultimate show, in which his last two guests, Robin Williams and Bette Midler, are on fire.

The 2003 Heeere's Johnny! expansion adds a whopping 13 volumes (on seven discs), nearly nine hours of material. There's one 25-minute Animal Hijinks show that's been available on VHS for years. The Timeless Moments volumes deliver a cross section of Carson including opening monologues, interviewing various guests (famous and otherwise), and the Mighty Carson Art Players skits. The segments are mostly from the '80s (complete range is May 1973 to January 1992), and the first volume illustrates the range. It starts with Johnny bombing during a 1990 monologue, then a 1982 interview with guest Frank Hill, the "Manure Man of South Carolina," followed by a stand-up bit from Garry Shandling in 1983. There's plenty of stand-up material from the first-time appearances of Rita Rudner, Drew Carrey, and Ellen DeGeneres as well as old favorites like Don Rickles and Bob Hope. This massive set might be too much of a good thing for some fans; for Carson fanatics, it stands as a must-have piece of entertainment and pop history. --Doug Thomas
 
Webmasters Make $$$